Marketing priorities have recently shifted– and with those shifts, research shows that many companies are considering a new website. After all, 80% of prospects will look at your website when evaluating several firms. So you want to make sure their first impression is a good one. But how do you know when it's time to update your firms' website?
A website overhaul is a big investment, and you want to make sure the timing is right. Generally speaking, websites should be updated every few years to remain fresh. If your site has used the same design for years and years, if it simply looks old compared to your competitors, or if the content hasn't been updated in ages, these are all signs that it may be time for a refresh.
Next, you will need to think about the technical and logistical aspects of your website. Consider these questions:
Is your site integrated with Google Analytics?
Have you taken steps to make your website responsive or mobile-friendly?
Are you using an open source Content Management System (CMS) that allows you to easily make updates to your website on your own?
All of these advances can make your website more user-friendly and help your firm generate more business. If the answer to one ore more of the questions above was no, you may find that your current website has fallen behind the times and your website is more than likely ready for an upgrade.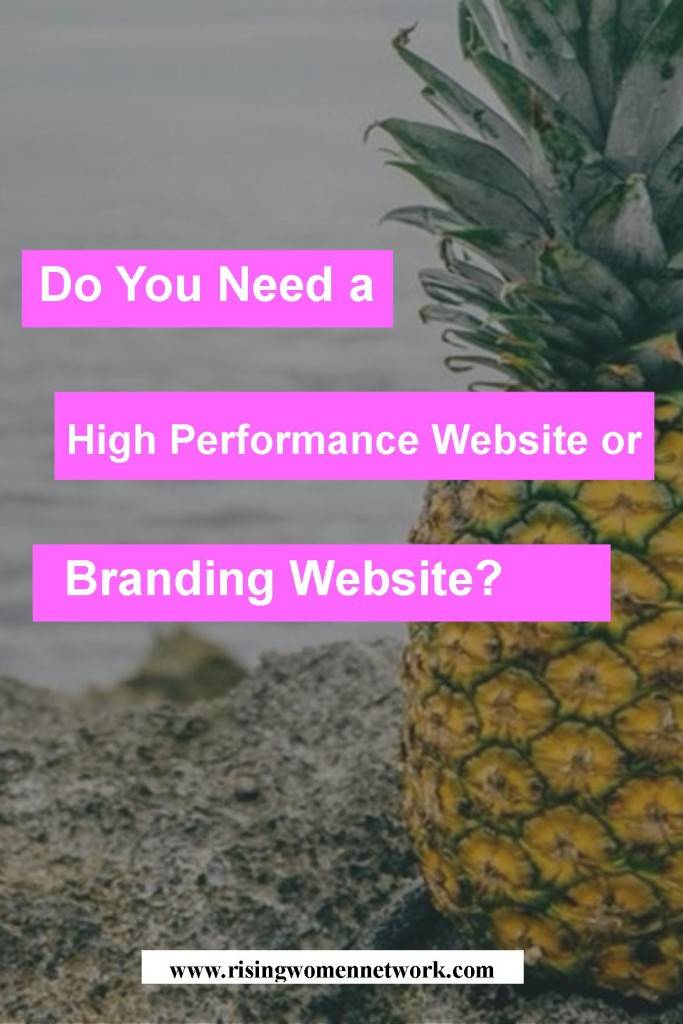 So, what kind of website do you need? Does a branding website meet your firm's specific needs or do you need something more robust, like a high performance website that generates leads? Let's compare.
Branding Websites
If you're updating a significantly outdated website or starting a new website from scratch, a branding website might be the ideal place to start. Branding websites focus on your firm and what makes you stand apart from the competition.
A truly effective branding website should be built around your company's key messaging and differentiators. When prospective buyers visit your website, they should quickly and easily be able to determine who you are, what you do and how you can help solve their challenges.
In addition to emphasizing your company's differentiators, a good branding website should also seek to embody your company's culture. What kinds of people work here? What kind of expertise do they have? Showing interested buyers a piece of your unique personality helps to establish your online presence and solidify your brand.
SEE ALSO: 5 Effective Ways to Build a Winning Brand Consistency
8 Key Questions That Will Help You Know When to Update Your Website
Getting started with a branding website
If you're creating a branding website from scratch, there are a few important decisions you'll have to make up-front. First, how do you plan to actually build your site? Once you figure out your strategy, you'll need to set goals for completion and work toward a launch date.
You'll also need to think about the daily processes of running your website. For instance, think carefully about your CMS and its ease of use. You don't want to give yourself too big of a learning curve, so consider going with an open source platform that remains user-friendly, while still having plenty of features. WordPress, Drupal and Joomla are just a few of the many widely used open source platforms you can consider.
You also need to determine how frequently you'll update the content on your website and whose responsibility it will be. Since you're focused on creating a website that presents a unified brand, it's important to think of how your site will reflect your brand and how to present key messages.
A branding website gives professional services firms many options for establishing an online presence and increasing visibility in a sophisticated way.
High Performance Websites
However, if your company focuses more on generating leads online, you're probably looking for the next step beyond a branding website: a high performance website.
You still want to focus on many aspects of a branding website – your company's differentiators, your key messaging, CMS, and a clear demonstration of how you can solve problems. But a high performance website is also designed to serve as the hub of a lead generating content engine, utilizing features such as search engine optimization (SEO), offers, educational content, and more.
When creating a high performance website, a critical first step is to begin creating educational content that helps solve the challenges your target audience is searching for. Identifying and using keywords that have to do with challenges they face and solutions or services they seek out will help drive your content up in search rankings.
A high performance website needs to be frequently and consistently updated with fresh, informative content that showcases your firm's expertise and authority in your industry. This content will be the foundation for implementing other marketing techniques into your strategy, including social media, email campaigns, and public relations.
Responsive design
We couldn't end this post with including another important aspect of a high performance website, which is the use of responsive design. Google recently announced that, starting in the very near future, "mobile-friendliness" will be a part of its search algorithm. This means that websites that render properly in mobile devices or tablets will, all things being equal, rank higher in online search results.
The takeaway here is that this is a big deal – and it's critical for your firm to give your mobile visitors a user-friendly experience through responsive design.
Which is right for you?
Knowing whether a branding or high performance website will depend on your needs, priorities, and budget. You might find that your company's business model is not suited to drive inbound leads, and rather a branding website is a better fit. Or you may be ready to accelerate your site with full-fledged online lead generation. Either choice can be the right one as long as you make your decision with your firm's individual needs and long-term marketing strategy in mind.
[magicactionbox id="241″]