You DID IT.
You have your perfect brand or website ready to go, and you are so eager to tell the world. Do you just post a screenshot of the new website on Facebook and call it a day? Or, do you prepare a carefully and strategically planned launch? I can tell you from experience, the second gets much better results. You just invested significantly into your new designs; it's time to put that investment to work! After watching many clients struggle to launch on their own, I began offering launch strategy as a service to my branding and website design clients – included in all packages. With this service, I plan and execute a 3 to 10-day launch to announce your brand and website to the world.
What's a launch?
A launch is the way you are going to tell the world about your new brand, new website, or new ANYTHING. It's strategic and intentional, and a good launch includes more than just a single post on Instagram.
Who do I Launch to?
Your social media followers
Your email list
Your brick and mortar customers
Your online groups (on Facebook, Linkedin, etc.)
Your friends and family
Your designer's online following
So, how the heck do you do a launch? I'm going to walk you through my launch strategy process, so you can do the same for your business!
Pre-Launch Instagram Post for a client's new website!
Day 1 and 2: Pre-Launch:
We all know YOU are excited about your new website and brand, but that doesn't mean other people are. With a launch, you can invite others to celebrate with you. Instead of just popping in with big changes, try teasing your audience that something new and exciting is coming soon. Ask them to interact with you and guess what it is, and invite them into the hype!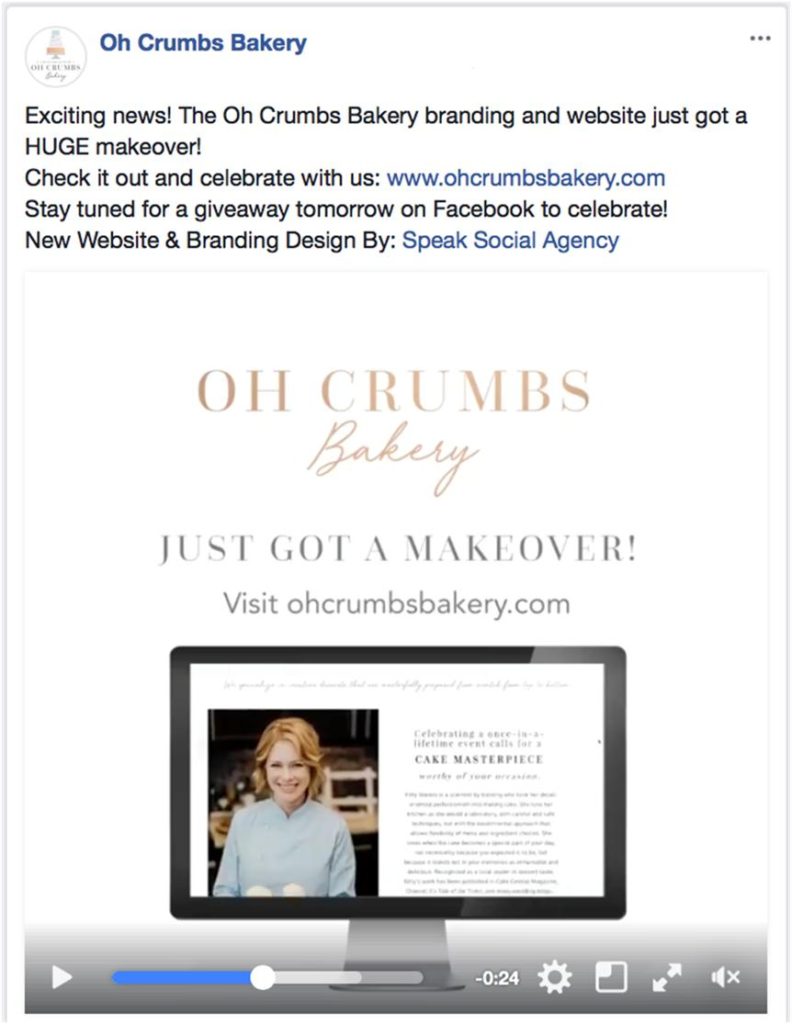 Day 3: LAUNCH IT:
I highly recommend using video to announce your new website and brand to the world. Studies show that video generates 1200% more shares than text and images combined. I like to create "launch videos" for my clients that showcase their new brand and website with some fun music. On average, my clients see an increase in over 700% organic engagement on their launch content versus daily posts on social media. Trust me, it works!
Roll all the new stuff out gradually throughout the day, or over the course of 2-3 days. Be sure to utilize ALL your following – don't just stop after launching to one place.
Day 4 – 7: Keep the hype going!
Now is the time to offer a celebratory discount or host a giveaway of your products or services. This will help you increase followers, get more traffic to your new website, and allow for exposure to more potential customers! Plus, it's a way to give back to your amazing customers, who let's be real, are the reason you even did the rebrand!
Day 8 – and on: Get in the game!
Now that the initial hype of your new brand and website is over, it's time to keep rolling out consistent new content to your customers. Your launch can also be a "launching pad" for you to be more consistent with your online communication to your audience! So keep the good stuff flowing on!
4 Results From a Well-Executed Launch:
#1 – You can create excitement around your business.
We all know YOU are excited about your new website and brand, but that doesn't mean other people are. With a launch, you can invite others to celebrate WITH you. By teasing that something new is coming, you create anticipation. Then, upon announcing, you can create excitement. Interesting videos and photos on social media also REALLY help with the excitement!
#2 – You can educate and remind people of what you offer.
If you're pretty inactive on social media or with your email list, a launch is a great opportunity to get back in the game.
#3 – You can create more sales.
In the long run, a well-designed brand and website, WILL certainly equal more sales. But, to get the balling rolling, consider offering your customers and fans an exclusive giveaway or offer in celebration of your launch!
#4 – You can grow your following.
A launch is a perfect opportunity to grow your following! Here are a couple of examples how…
If you're trying to grow your email list, announce the launch on to your email subscribers first, and tell your other followers to subscribe in order to be the "first to know". "Subscribe to my email list to be the first to hear about our big changes this week and to receive an exclusive offer!"
If you know me, then you know I LOVE social media giveaways. I love winning them and I love hosting them for clients. I have seen them be huge game changers for small business owners when executed well. Celebrating a launch could be the perfect opportunity for you to do a giveaway for your products or services.
PIN THIS BLOG POST ON YOUR PINTEREST IF YOU FOUND IT HELPFUL.
Ummmm … do you know how much I'd appreciate that?
I'd really appreciate it. Like a lot.
To pin on Pinterest, simply hover over the image below and click on the little "P!"
(Have thoughts or questions?)
Feel free to leave them below in the comments. I'm always considering new ways to grow your blog readership – including through Pinterest.
To Your Success!