Regardless of the social network you choose, there seem to be some similar, high-level strategies that apply to getting new followers on every network—Twitter, Facebook, Pinterest, Google+, LinkedIn, and Instagram.
If you're looking to build your profile and add new instagram followers, here are some of the standard best practices. Lots more detail on each of these below.
Fill out your profile completely
Share a link to your profile via your other networks and via email
Place follow links and widgets on your blog or website
Add your new social profile to your email signature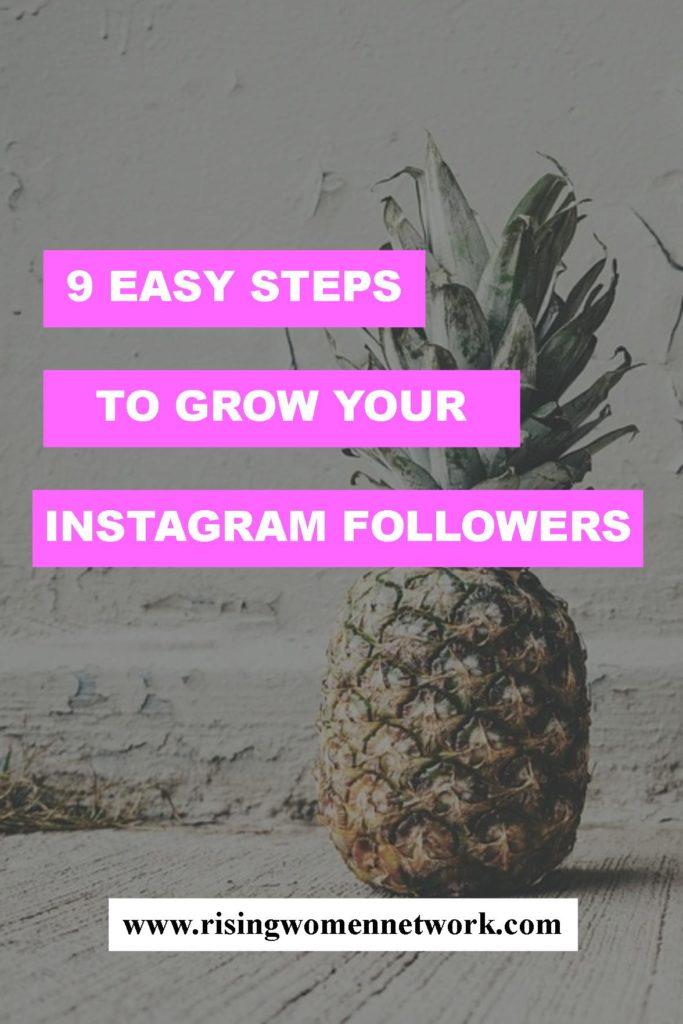 I've got 9 easy steps that will help you step up your game and grow your instagram followers.
Step one: Fill out your Instagram profile completely
What might Instagram users consider when they decide whether to follow you? Chances are good that they'll check out your profile first.
To that end, if you want to get followers on Instagram, be sure you have completed your profile with a profile picture, a description, and a link to your website.
What's more is that you want the photos themselves to look complete and professional. Instagram's header section is composed of seven of your most popular images. Be sure that you've taken at least seven images before you begin promoting your profile. Lifestyle and personal images tend to do best.
Doing so will help your Facebook friends find you and follow you on Instagram.
Step three: Come up with a commenting strategy
Any given second on Instagram, there are 575 likes on a picture compares to 81 comments. A comment figures to get noticed (and appreciated) much more than a like.
Comment from a computer, using a tool like Iconosquare. This way you can leave comments quicker and easier than typing out on a mobile device.
Search for a relevant hashtag.
Comment on photos posted within the last day or two.
Comment on photos with fewer than five other comments (to make sure your comment is seen and appreciated).
Step four: Like a lot of posts
Neil Patel tried out several Instagram strategies to gain more followers, and his number one takeaway was this:
If you want to grow your account by a few hundred followers a day, the best way to accomplish it is to randomly like thousands of images a day.
---
---
Step five: Discover the best hashtags
Find out what the influencers in your industry are tagging. For a more scientific view, check into the Webstagram Top 100 to see the overall trends and top picks for hashtags on Instagram. (You can gain more Instagram followers by using the hashtags people are looking for!)
Step six: Place a hashtagged feed of Instagram posts on your website or blog
This way, visitors to your site can notice your Instagram account and send you follows. There are some helpful sites—Webstagram and Instansive, for instance—that assist with getting the feed on your site. WordPress users have a lot of plugin options as well.
In addition, Instagram also offers five different types/sizes of badges that you can place on your website.
Step seven: Tag people
Tag and mention the accounts that are relevant to you. This could lead to the accounts themselves following you back or with these users paying the love forward by mentioning you on one of their photos.
Step eight: Share a link to your profile on other social channels and email
You can pick up more followers by sharing a link to your profile with the people who are already following you on other social networks.
Step nine: Use geo-tagging for your pictures and your store
Instagram revealed a photo maps feature which lets users see the pictures that were taken from a certain location. If you enable geo-tagging on your pictures, you can be part of this map. Same goes for a brick-and-mortar store you own. Connect your Instagram via Foursquare to turn on this feature.
Summary
Fill out your Instagram profile completely, and make sure that you have at least seven high-quality images on your account
Connect your Instagram account to your Facebook account
Comment on as many images as you can
Like as many images as you can
Conclusion
Which tips might you try to get more followers on instagram?
What have you found that has worked well for you in the past?
I'm curious to try some of these tips out myself on my personal instagram profile and on the account for Rising Women Network. Many of these we've tried-and-test; others are new. It'd be great to test them all out and report back with what works.
---
Want to build your presence on Instagram?  Want to gain more followers?  Okay, we'll help.  Since you asked nicely. Get a FREE copy of our Instagram Tools Guide.
[magicactionbox id="639″]
---