If you're looking for more inspiration & support to build a successful business, then we'd love to help you! Sign up here and we'll send you over some brilliant resources >>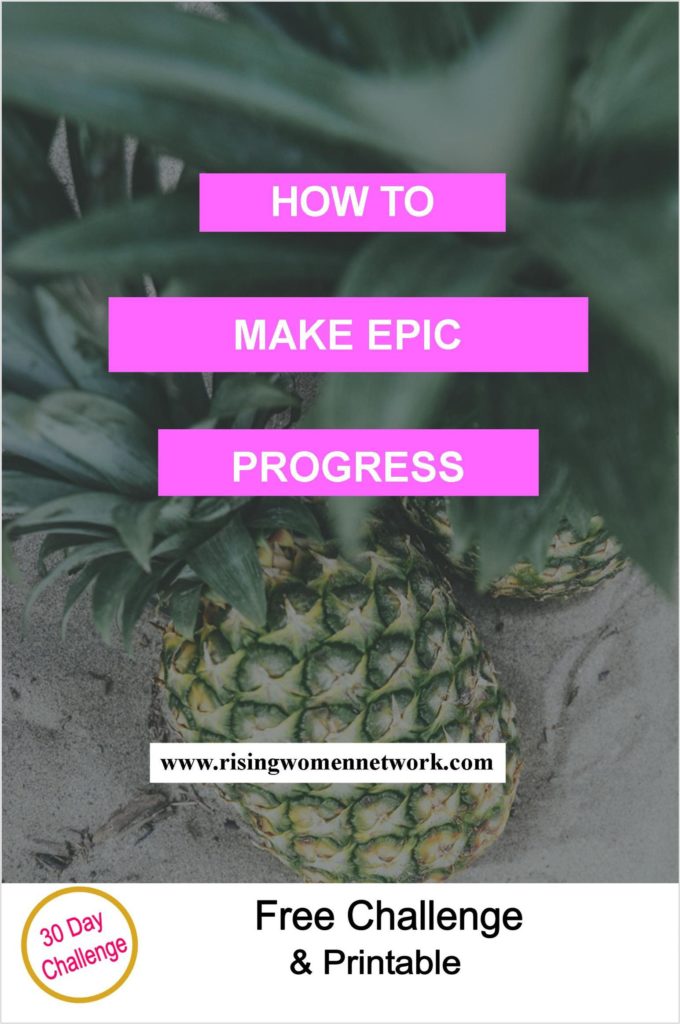 When you're building a business there's so much to do and we all have so many ideas we're working on, new strategies to test out etc. etc.
I think it's easy to fall into the trap of hopping from one idea/project/goal to the next, never really finishing anything! Which is incredibly frustrating.
So today I want to share a strategy with you, which helped me so much to overcome overwhelm and to actually make epic progress and complete projects so much faster!
I'm so excited because along with this video I've created a fun (and hopefully very powerful!) 30 day challenge and free printable for you to help you make EPIC progress over the next month 🙂 woohoo.
Also, make sure you keep reading below and leave a comment… I'm going to be selecting a person in the comments who will win our Kick Start the Year Bundle, which is part of the Members' Club (if you're already a member and we select you, a refund for the month will be coming your way 🙂 ). 
---
If you're a member of the Members' Club take this a step further & access the Kick Start The Year Bundle here and make a full on plan of action for 2017 >>  
(If you're not a member, find out more about joining and access the bundles here >>)
[Tweet "Kick start January with this free 30 day challenge to achieve something amazing!"]
---
#1 – WRITE DOWN ALL OF YOUR GOALS/PROJECTS
Get a blank piece of paper and write down all of the projects and goals you're actively working towards at the moment/over the next month.
#2 – PRIORITIZE FOR PROGRESS
Once you have your list you need to priorities your projects/goals, so you know what you need to focus on. Ask yourself, "Out of everything on my list, what's the 1 goal/project I'd LOVE to have completed by the end of 30 days?" Also think about the goals and projects which are most aligned to your big business vision… you want to focus on something that will really help you to move forward in your business.
#3 – PICK YOUR PROJECT
So, now you should have your #1 project that you can focus on over the next 30 days. What is it? Leave a comment below and let us know!
Once you've picked a project, you need to commit to focusing on that one project almost to the exclusion of everything else. Of course you'll still respond to emails and do other business activities, but just make sure that your chosen project is your number 1 priority and that your focus and energy goes into completing it.
Download the free printable we've created to help you with your project >>
We're going to pick a winner from the comments section & you'll get access to our Kick Start the Year Bundle! So get involved!
I hope you've enjoyed this video and I hope this challenge and printable help you to have the most incredible 30 days EVER!
I wish you so much success 🙂