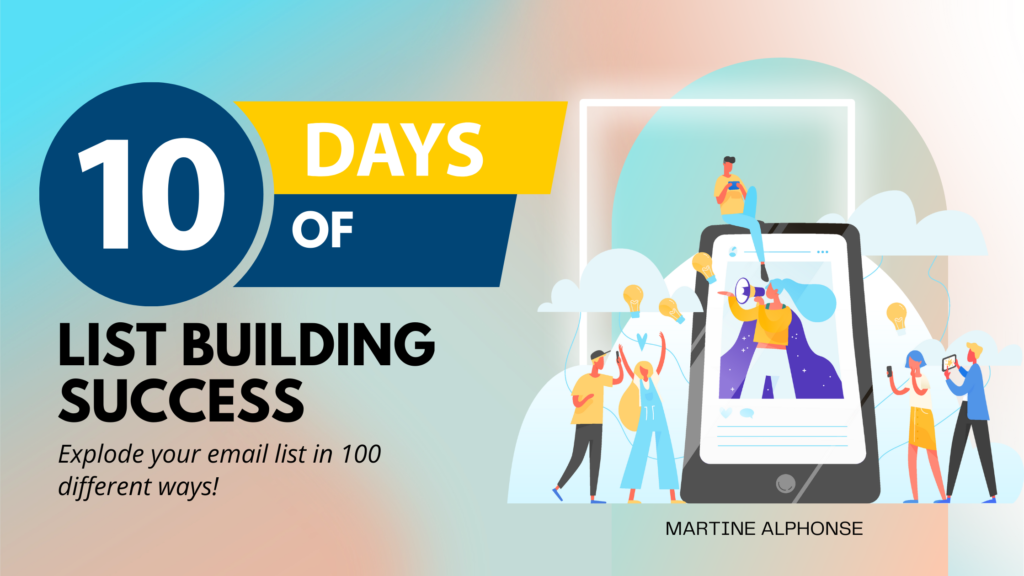 .
How are you keeping in touch with your Ideal Market?
What if you could connect with them whenever you wanted, at the click of a mouse?
And what if you could do it even when you're sleeping?
That's what having an email list is all about, and that's what we're going to be talking about here.
.
You're going to be learning 100 different things you need to know about list building, including:
The importance of building an email list for your business
The basics of setting up a list
How to understand who you'll be mailing to
How to get people to join your list
What to say to your subscribers
Where to find subscribers
How to profit from your email list
How to assess and improve the quality of your list and emails
There are assignments for you to complete each day, along with worksheets for recording what you learn.
You can complete everything over the course of 10 days, or complete the assignments on your own schedule. But don't take too long or you'll be leaving more money on the table than you can imagine!
Whether you already have a list and need to do a better job of list building, or you're just starting out, you're going to learn the top ways to build an email list that is the foundation of your business.
By the time you've completed all the assignments in this course, you should be well on your way to building a valuable, trust-based relationship with your Ideal Market – a relationship that will mean the difference between a so-so business that gets by and a business that grows and flourishes every month, year after year reaching those you are here to serve and making a bigger difference in the world.
It's never too early or too late to set up an email list, so let's get started!
DOWNLOAD WORKBOOK
.