Are you looking for the best landing page creation tool to boost conversions and drive more sales?
Landing pages are an essential part of your sales funnel. In fact, a well-designed landing page can make or break your conversion rates. But how do you create a stunning landing page that converts if you don't know how to code?
That's where landing page creation tools come in.
So, today, we're going to cover the best landing page creation tools that you can use to quickly and easily create and design landing pages that work.
But before we begin, let's get clear on what a landing page is and why you need one.
What is a Landing Page?
A landing page is any page on your website where you drive traffic to reach a specific goal. That means even your homepage can technically be a landing page if you're driving traffic to it with a specific purpose.
But, in many cases, your landing pages will be stand-alone web pages that you create specifically for marketing or sales purposes.
That means you'll use some landing page best practices such as loading it with social proof, providing video demos of your product, and having a clear call to action.
If you want to learn more about how to create a stellar landing page, then we highly recommend that you check out this resource: Sales Funnel Starter Kit.
Otherwise, keep reading. Because we're going to share with you the BEST tools to build & optimize your landing page.
Let's dive in!
SeedProd is the world's #1 landing page tool for WordPress. It allows you to create all types of landing pages, such as:
Sales pages
Coming soon pages
Optin pages
Maintenance pages
And much more.
SeedProd has a drag and drop editor that allows you to quickly and easily design the perfect landing pages to reach your goals. Plus, there are loads of templates to help you save time, energy, and resources as you make the page's design.
So if you're looking for a landing page creation tool that's easy to use, super responsive, and gets the results you want, then SeedProd is definitely the way to go.
Get started with SeedProd today!
OptinMonster is hands down the best lead generation tool that you'll need to use on your landing pages to boost conversions. With OptinMonster, you can
turn any web pages into a squeeze page with our Fullscreen campaigns
create exit-intent optin forms to re-engage abandoning visitors on your landing pages
First, you can use fullscreen welcome mat campaigns to function like a landing page on your site. Even though you're not sending traffic to a specific URL, you can build a fullscreen campaign with powerful optin forms to display on existing pages: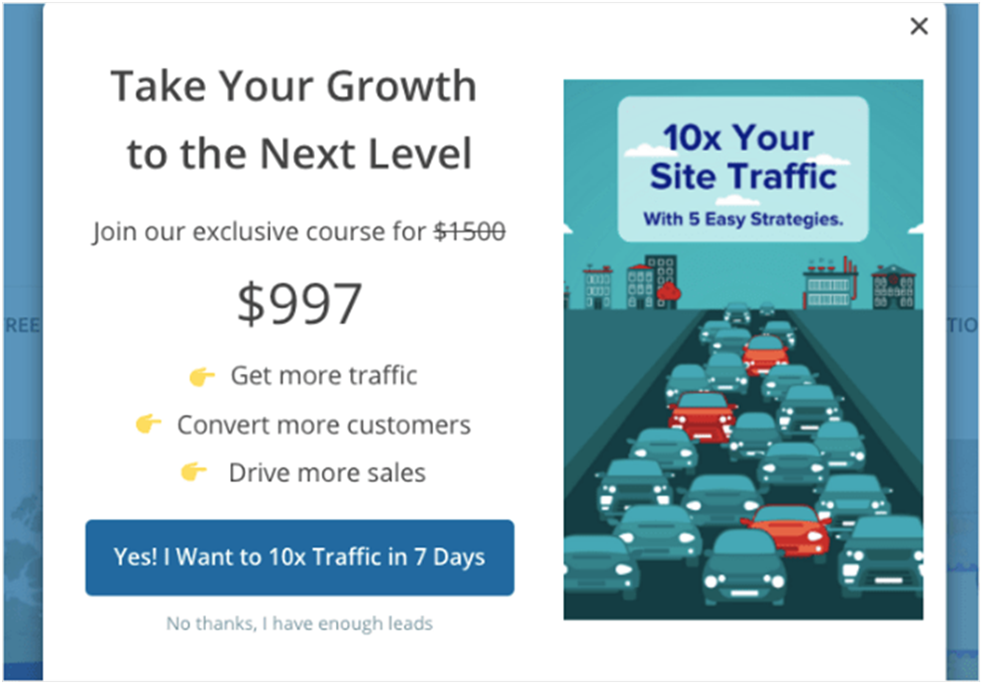 This gives you a dynamic fullscreen optin form that can be loaded with:
Social proof
Powerful copy
Optin forms
Video
And much more. This gives you a dynamic campaign which means you can show it to your existing traffic, rather than sending new traffic to a specific URL.
This leads to better personalization for your campaign and higher conversions for you.
Another strategy you can use is with an exit-intent popup.
With OptinMonster's Exit-Intent® technology, you can capture visitors as they're leaving your landing page. This gives you one last chance to re-engage your audience so you can nurture that relationship over time.
Exit-intent popups are incredibly effective at keeping users engaged with your brand. In fact, it's the same strategy that Crossrope used to grow their list by over 900%.
You can attach an exit-intent popup to your landing pages to ensure that you don't leave any conversions on the table.
Click below to get started with OptinMonster risk-free today!
Boost Conversions from Your Landing Pages Today!
Divi is a powerful WordPress theme (created by Elegant Themes) that lets you build custom landing pages with a visual drag-and-drop interface.
There are 46 pre-built content elements that you can use to build any website landing page in a flash. Plus, everything is customizable.
Pair this theme with your favorite landing page form builder, and you'll be bringing in leads in no time!
#4 – Beaver Builder
Beaver Builder is a great drag and drop page builder for your WordPress website.
You can use it to easily create and edit stunning landing pages and experiment with the placement of your page's elements using a visual builder.
Plus, if you're building landing pages for other people, you can hand them off in editor mode and not have to worry that the pages will end up broken!
RafflePress is a robust and easy-to-use WordPress giveaway plugin with a drag and drop builder that makes it super easy to build a gorgeous contest landing page or giveaway widget in minutes.
With RafflePress and its awesome list of features, you can:
Increase social media follows
Drive website traffic
Grow your email list
And, there's even a free RafflePress Lite plugin available in the WordPress plugin repository!
For more information, check out this helpful review of RafflePress.
Leadpages is a standalone page builder that you can use with or without a WordPress site to create gorgeous landing pages.
It comes with several professionally designed landing page templates that are optimized for lead generation and you can easily drag and drop elements to make the page truly yours.
Leadpages integrates with a ton of third-party tools and all the top email marketing services. To add a signup form to your website landing page, you just click on the Add Integration button to get things started.
If you need to design a great landing page but feel like you don't have the skills to create something impressive that would bring a high return, LivePages might be your solution. This is a simple drag-and-drop design tool that streamlines the process of creating landing pages from start to finish.
Video is a great addition to optin landing pages, just please don't use auto-play. Vimeo is a tool that stores your videos and allows you to embed them on your website landing page, with advanced options for how and where you want your video displayed (and where you don't want it displayed).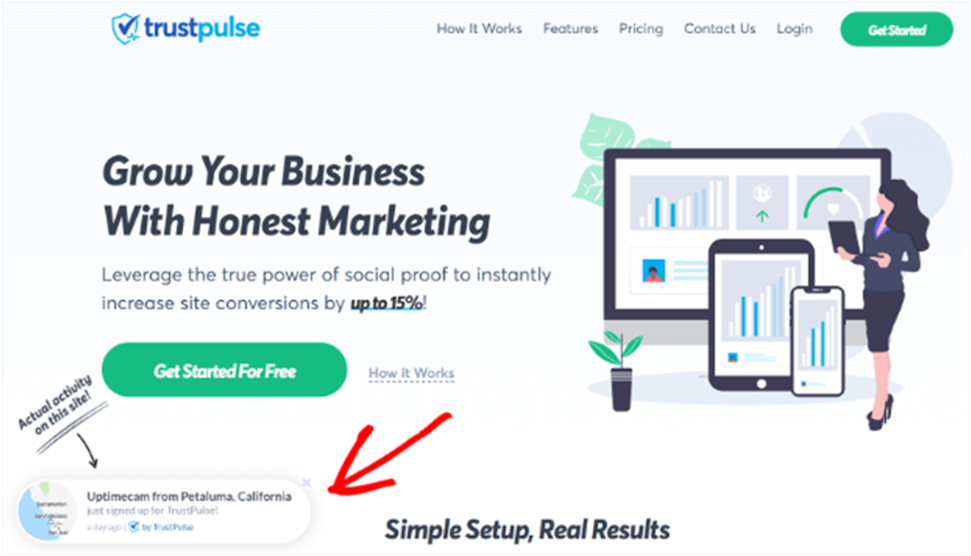 If you're not leveraging social proof on your website and landing pages, you're missing out on a big opportunity to engage potential customers. TrustPulse shows real-time customer activity notifications on your website in the form of eye-catching, verified activity bubbles:
You can use TrustPulse to showcase verified recent activity like:
form submissions
demo registrations
purchases
and more…
TrustPulse is a quick, easy way to convince your visitors that you not only have what they need, but other visitors just like them are trusting you, and they can too!
Every optin landing page needs an effective thank-you page to go along with it. But, GoViral takes the traditional thank-you page and throws it out the window, replacing it with something far more effective: a bonus incentive page.
This free tool allows you to generate more optins, and even make your website landing page go viral, by incentivizing new subscribers to share your optin on social media.
Now you 10 Best Tools to Build & Optimize Your Landing Pages you can convert more of your visitors into subscribers, leads and sales.
And remember, once visitors have opted in, the trick is to nurture the relationship. Check out our sales funnel starter kit to help with this. And don't forget to follow us on Facebook and Instagram for more in-depth guides.
PIN THIS BLOG POST ON YOUR PINTEREST IF YOU FOUND IT HELPFUL. 
Ummmm … do you know how much I'd appreciate that?
I'd really appreciate it. Like a lot.
To pin on Pinterest, simply hover over the image below and click on the little "P!"